SILKSTONE production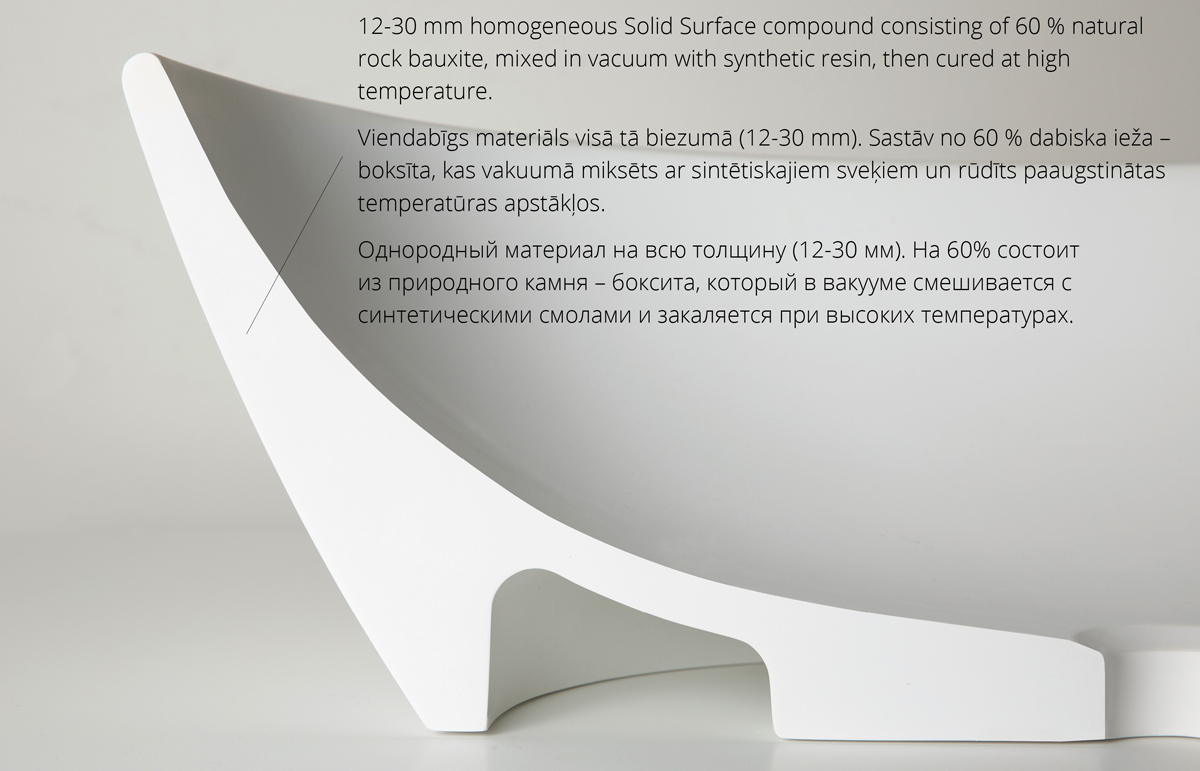 РАА is a Latvian manufacturer with experience in sanitary ware market since 1993. We design and produce bathtubs, washbasins, shower trays, bathroom furniture and other interior elements that are technically flawless, visually appealing and relevant to modern trends. Pioneers in Latvia, we have mastered new technology and created the material named SILKSTONE.
What is SILKSTONE?
SILKSTONE is a modern composite material which combines gentle feel of silk and noble solidness of marble. SILKSTONE in standard comes in white colour and half matte gloss, other colours can be custom-made.
SILKSTONE contains a natural material called bauxite which is mixed in vacuum with polyester resin and hardened at high temperature.


Where to use SILKSTONE?
SILKSTONE is used for visually and geometrically flawless washbasins, bathtubs, table-tops, furniture fronts, floor and wall paneling, baseboards, handrails and other interior design elements.
SILKSTONE is perfect for intensively used premises, such as restaurants, hotels, shopping centers, schools and office buildings, medical and manufacturing facilities. It is safe and easy to use and maintain.
How to describe SILKSTONE?
WATERPROOF - does not absorb water.
HEATPROOF - full performance even at 100°C.
EASY TO KEEP CLEAN - non-porous surface is completely smooth - does not absorb any colouring substances such as wine or coffee.
CHEMICAL RESISTANT against all kinds of domestic solvents, acids and washing liquids.
SAFE - can be used in medical facilities/ equipment and in direct contact with food products.
HARD - scratch resistant. In comparison to ceramics also shock resistant.
DOES NOT FADE - resistant to UV-rays.
FIRE RESISTANT - can be used in places with high fire protection requirements. It is self-extinguishing, as at extremely high temperatures releases water.
ECO-FRIENDLY - can be recycled. After being ground, can be used to produce new SILKSTONE items.
How to care for SILKSTONE?
SILKSTONE is easy to clean with a wet abrasive sponge (Scotch-Brite) using regular washing liquid - in this way it will maintain its natural matte finish for a long time. SILKSTONE can be fully renovated by polishing or being filled with more SILKSTONE material in case of deeper scratches or notches.